The Quality of Mind Indicator gives you a new level of awareness of how you function psychologically. It provides you with an analysis, which can help you on the journey to living with more power, effectiveness, peace of mind and freedom.
Complete the free assessment in about 15 minutes
Gain insights to help you utilise the power of your mind
Reflect on your current psychological effectiveness
Benefit from an optional 20-minute consultation on your report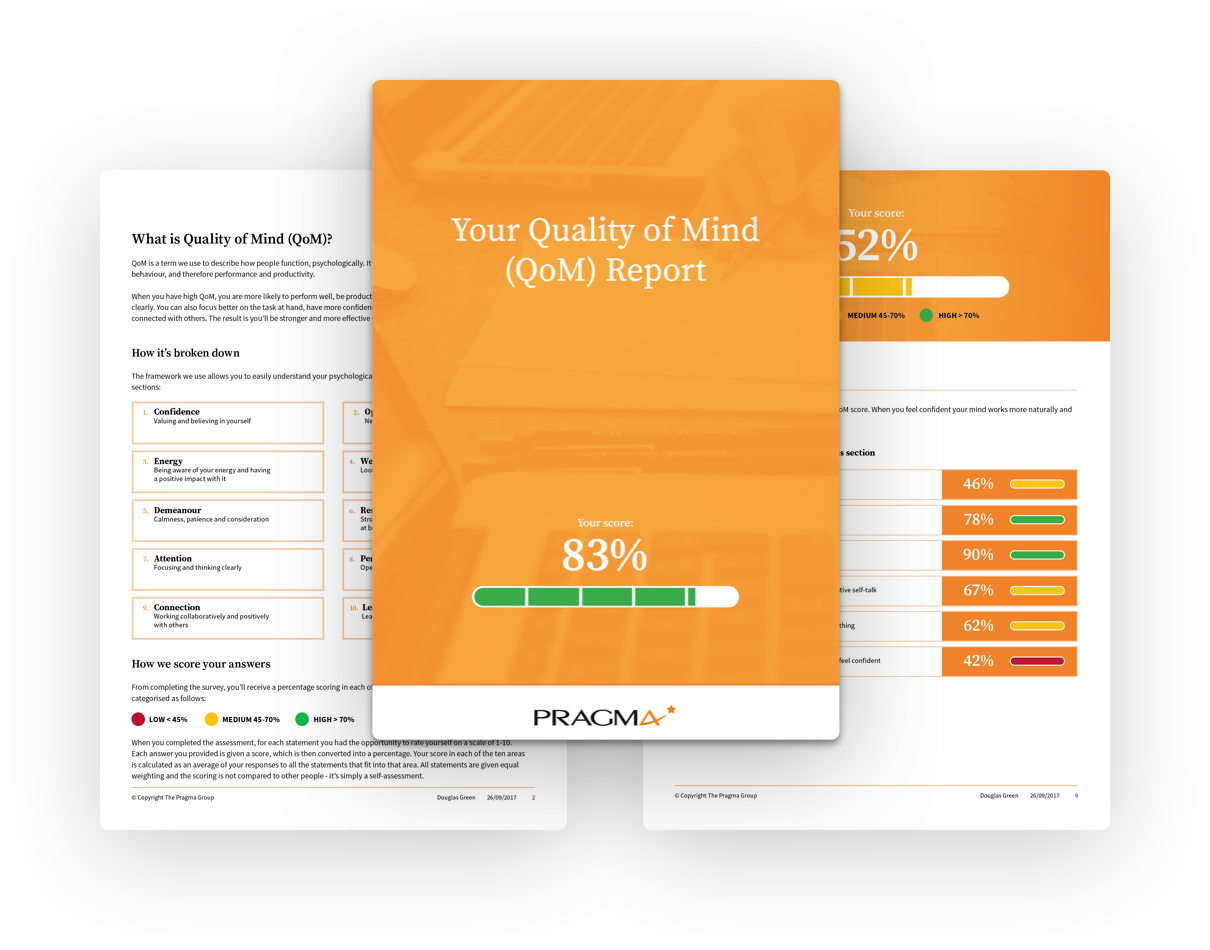 "The quality of your thinking is such a big and important topic, and yet it's usually ignored on leadership development courses. The Quality of Mind assessment and programme is a different perspective to anything else I've experienced out there."
Lisa Hopkinson, Former Buying Director at The White Company
"The difference in the team after one month was quite unbelievable. Trust, honesty, common language, fun, harmony and ideas were flying everywhere. You can feel the energy across everyone. I keep expecting it to end; luckily I know it will only grow. Thank you so much!"
Caroline Cromar, Brand Director at Pret a Manger
"The Quality of Mind Programme is extremely powerful. I highly recommend it to anyone looking to improve how they use their mind at work."
Will Kernan, CEO at Wiggle
"The Quality of Mind programme was my most transformative experience ever. By getting a better understanding of how my mind works, I have been able to effortlessly take my performance (and wellbeing) to a whole new level."
Vishal Goswami, Senior Director, Sapient, a Publicis company
The indicator covers ten essential aspects:
Confidence
Valuing and believing in yourself.
Openness
Open-mindedness and accessing fresh thinking.
Energy
Being aware of personal energy and using it for positive impact.
Well-being
Looking after yourself.
Demeanour
Calmness, patience and consideration.
Resilience
Strong in the face of challenge and adept at bouncing back.
Attention
Focusing and thinking clearly.
Performance
Operating in flow and being productive.
Connection
Working collaboratively and positively with others.
Leadership
Leading with care, clarity and power.
When you complete the assessment, you'll receive a personalised report providing your score in each of the ten aspects. It also provides you with advice on how to better utilise the power of your mind in each aspect. You'll also then receive occasional emails from us providing insightful content.
The indicator and report are free. All information is kept confidential.
Step 1:
Answer the questions
Step 2:
Review your score

Step 3:
Download your full report

Step 4:
Develop a greater understanding about your mind